When AMD is busy with ThreadRipper, Intel Unveils Xeon E-2100 Processor Family for Entry-Level Workstations
With days, processors are becoming smaller and more powerful. A few days back, AMD released their ThreadRipper 2950X which primarily focussed high performance for workstations and servers.
This made a stir in the professional field. How? Well, if you get a blazing performance with a 32 core CPU with a size of a small processor like that is in our home PC, then why would you not spend extra bucks to buy the ThreadRipper…
Now, this has finally made Intel to bring something new for the servers and workstations. Though this family is not meant to take high loads, but strong enough for entry-level workstations…
There are ten of these new Coffee Lake processors listed in the Intel Ark and they sport either 4C/8T or 6T/12T.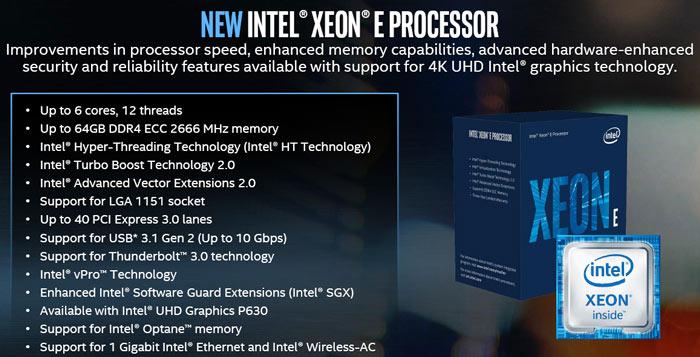 Specs & Features:
The new Xeon range is said to deliver an up to 1.36X performance improvement over the previous generation. In other headline claims Intel says that new entry-level workstation users can enjoy up to 4.7GHz turbo speeds, in machines employing up to 64GB of DDR4 2666 RAM.
Here is the complete list of the new Xeon Family:
The processors come with built-in Intel UHD Graphics 630, which supports native 4K UHD content already. It also comes with built-in HEVC 10-bit hardware acceleration for enhanced 4K media decoding and encoding.
Intel highlights the "powerful single-threaded application performance" of the new Xeon E-2100 series.
"The combination of two additional cores and higher single-core turbo frequency delivers increases in performance across workstation benchmarks as compared with previous 4-core entry workstation processors," writes Intel.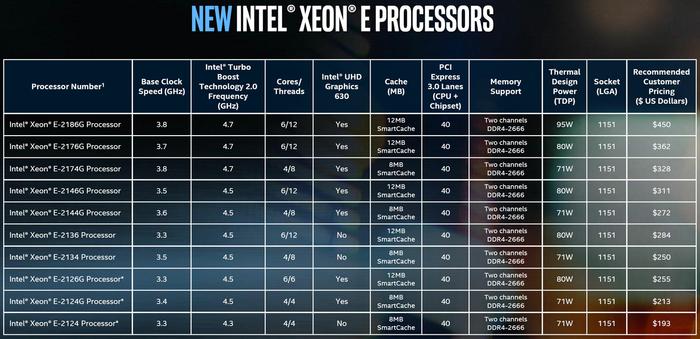 Also, these new Xeons support ECC RAM, a requirement of some professional users for data integrity and stability.
The E-2100 series chips support up to 40 PCIe lanes for GPUs, storage drives, and network adapters. They are compatible with the Intel C246 chipset and support USB 3.1 (Gen 2) and Thunderbolt 3.0 connectivity.
Do check out: Processors To Buy In This 2018
Availability and Pricing
The Intel Xeon Core E-2100 processor systems will officially begin shipping from July 13. The estimated pricing starts at $193 for the E-2124 (4C/4T) at the lower-end and goes up to $450 for the E-2186G at the top-end of the lineup.
TechnoSports-stay UPDATED 🙂