Origin Omni PC is one of the best all-rounder Gaming PC ever!!! Know more about this Gaming Beast
An all-in-one computer is generally the complete package which combines a monitor and computer into a single unit.
There's no denying that all-in-one comes at the cost of performance, underpowered hardware and other issues but this one over here, Origin Omni defies it all as it's powerfully over-the-top and tinkerer-friendly that it's the rare breed of AiO that hardcore gaming enthusiasts can take seriously.

Learn more about OMNI: http://www.originpc.com/OMNI Like Us On Facebook: http://www.facebook.com/originpc Follow us on Twitter and IG: @ORIGIN PC Introducing the Most Powerful and Upgradeable All-in-One Meet the New ORIGIN PC OMNI Now Shipping!
Beast in the true sense: Insanely Powerful(for an all-in-one)
The Omni's 34-inch curved screen ultra-wide (3440 x 1440) quad HD 1440p panel which boasts a 60Hz refresh rate is nothing different than a standard wide-aspect curved monitor.
But the inside components of this beast is nothing less than a heaven to a gamer's eye.
I'm saying this because if you strip the back panel of the monitor you'll find full-tilt, overclockable, high-end desktop parts with full-sized monitor board, full-sized graphics card, memory, wires, fans, some cooling bits.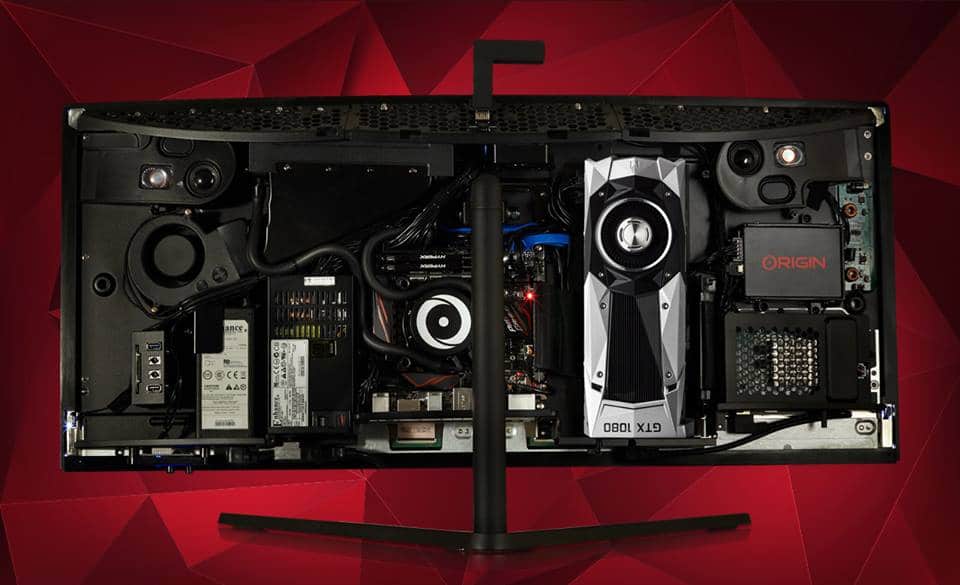 It has a full-size ASUS Z170I Pro Gaming motherboard fitted with a water-cooled Intel Core i7 6700K Quad-Core 4.0GHz CPU, a Geforce GTX 1080 graphics card, which is a pretty much top-of-the-line performance for graphics and almost top-tier for CPU.
For memory and storage, it has 16GB of Kingston DDR4 memory and two hard drives, a 250GB Samsung SSD and a 2TB Seagate SATA drive, which is a way too much for me to fill.
The CPU is liquid-cooled using a unique custom closed-loop cooler which looks cool.
It has a power supply of 450 watt which is right on the edge of what the Geforce GTX 1080 card supports, honestly is one of the very few things which you have to compromise but it depends on you whether it will bug you or not, honestly,I feel it will still work like a charm.
According to Origin Pc Website, Here's the complete parts list-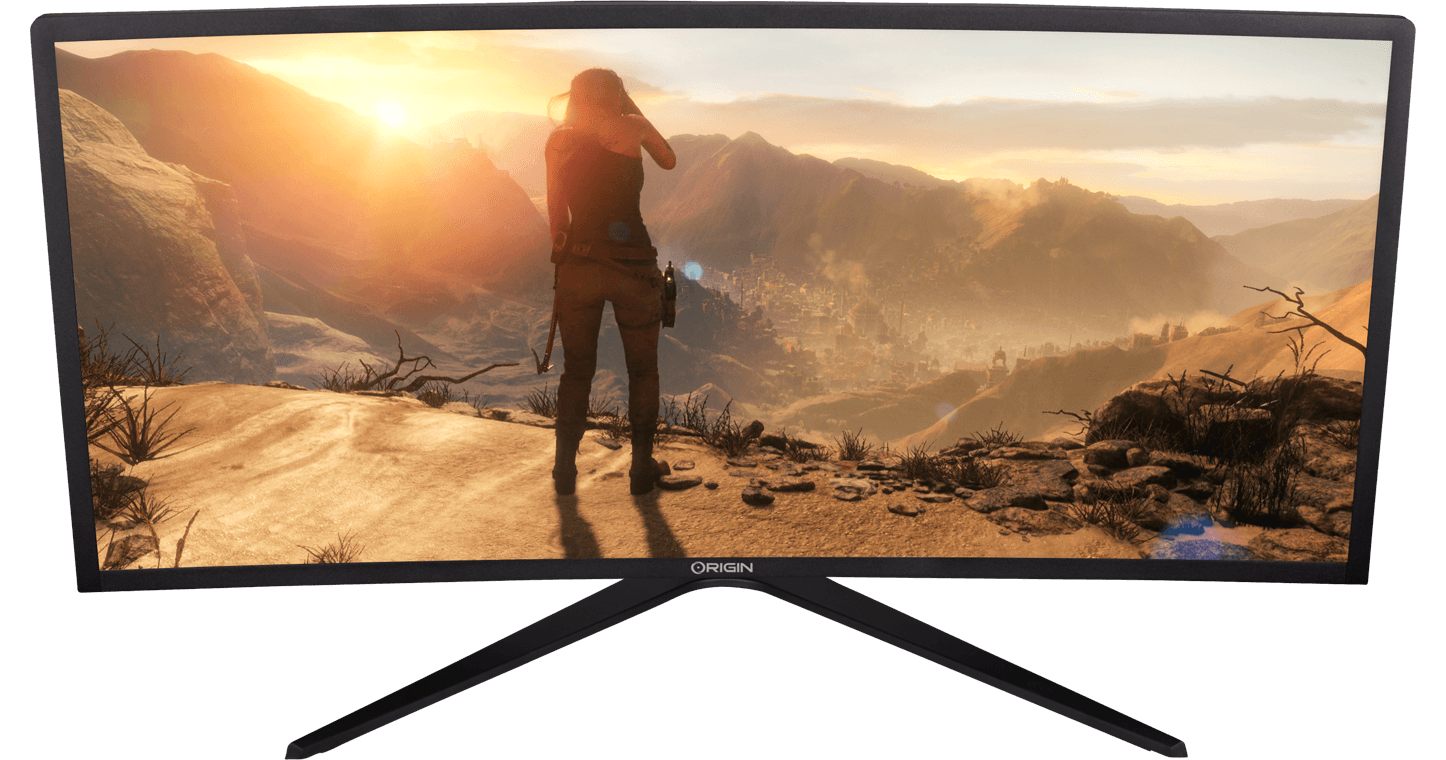 Case: Origin Omni
Display Type: Omni 34″ 3440 x 1440 Curved Ultra-Wide 60Hz Matte Display
Power Supply: Built-In 450 Watt
Motherboard: ASUS Z170I Pro Gaming
System Cooling: Built-In Closed Loop Liquid Cooling Solution for 1151
Processors: Intel Core i5 6500 Quad-Core 3.2GHz (3.6GHz TurboBoost)
Graphics Cards: Single 8GB NVIDIA GeForce GTX 1080 Founders Edition
Memory: 16GB Origin PC DDR4 Powered by Kingston 2666MHz (2 X 8GB)
Operating System: Windows 10 Home
Hard Drive One (Operating System Drive #1): FREE 250GB Samsung 750 EVO Series
Hard Drive Two: 2TB Seagate 5400RPM 2.5″ Hard Drive
Audio: On Board High Definition 8-Channel Audio
Networking: Onboard Network Port
Warranty: Lifetime 24/7 U.S. Based Support and Lifetime Free Labor. 1 Year Part Replacement & 45 Day Shipping Warranty
Webcam: Omni Webcam (Included with Omni)
Now the fun part: Performance-Is it that sky-rocketing??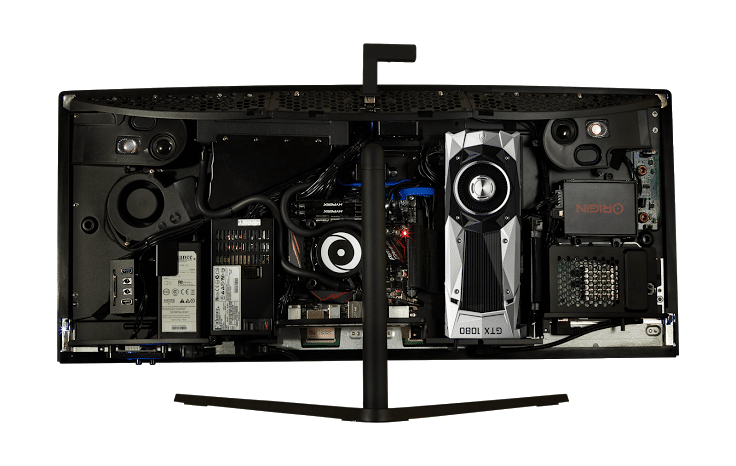 This is a great device to play some serious games on especially for hardcore gamers thanks to Geforce GTX 1080 Founder's Edition that comes packed inside of it.
It very impressive that it is capable of delivering more than playable performance (at least 30 FPS) on most modern games at 4K resolution.
But since this system is an Ultra Wide 3440 x 1440(not a 4K), it's not likely to push as many pixels as a 4K screen, but you'll definitely experience an enhanced performance in supported games.
You can sure as hell bet on the fact that this beast will run most of the games including World of Warcraft, Deus Ex: Human Revolution, World of Warcraft, Hitman, Rise of the Tomb Raider and World of Warcraft at high settings in 60 fps constantly easily and you'll get even higher fps which is a perfect treat for gamers.