Hey Guys!!! Here Are The Best Upcoming Desktops For 2018…!!!
CES always showcases the best of tech all under one roof…Previously, we have showcased the best laptops from CES 2018 earlier and so here we are the best desktops from CES 2018…
While some may argue that desktop PCs are going out of fashion, the machines we've seen at CES 2018 show there's plenty of life left in the form factor, with no shortage of desktops offering power and performance that mobile devices can only dream of.
So, here we are with the top desktops from CES 2018:
Origin Millennium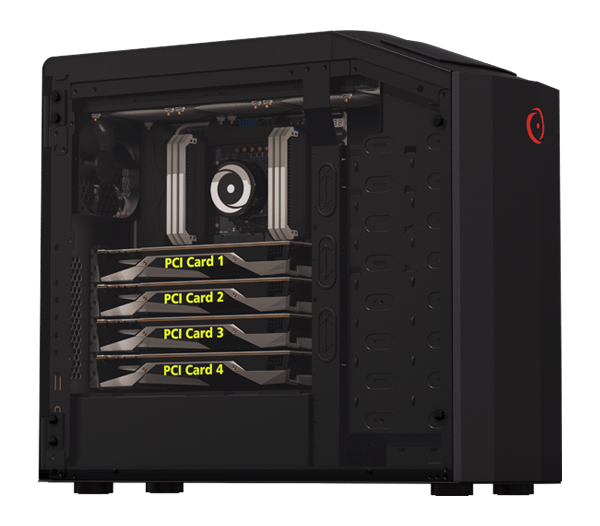 Origin PCs showed their class through their new model which is super stylish and is a game changer as well. It has unique feature that quickly turns it into a larger Genesis full-tower gaming machine.  This is done by adding the Super Tower Bottom expansion kit, which gives users the space to add dual 360mm radiators to keep the PC running cooler.
The slimmer new MILLENNIUM has five 5.25-inch front bays giving you several expansion options. Even with a reduced frame, the MILLENNIUM still has its reliable server-grade steel frame with unshakable support.
GPU:
The MILLENNIUM features NVIDIA and AMD graphics cards in either single or 2-way SLI / CrossFireX configurations. All of these configurations are available in every orientation offered via the ORIGIN PC MILLENNIUM, even 2-way SLI configurations in an inverted vertical orientation. Equip your MILLENNIUM with an array of next-generation GPUs, and immerse yourself in the most detailed gaming environments, the crispest high-definition video, and the most stunning 3D effects.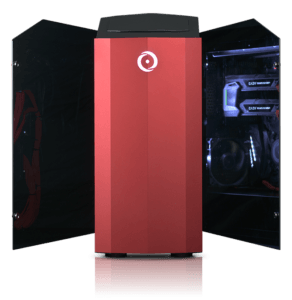 CPU:
There is no low gear. The MILLENNIUM utilizes Intel Core i7 and i9 quad and 18-core processors or AMD's Ryzen and Ryzen Threadripper processors up to 16 cores and 32 threads. The highest professionally overclocked processing speeds, combined with ORIGIN PC Liquid Cooling, delivers the raw power you need to churn through even the most computation-heavy applications.
Memory:
Max out your multitasking capabilities with up to 128GB of advanced high-speed DDR4 memory specifically handpicked by ORIGIN PC engineers to work with professional overclocking.
Digital Storm Spark
Digital Storm's Project Spark is a full gaming desktop you actually have room for — on your desk. Its speciality is its form factor that adds to its style and elegance.
Digital Storm is proud to announce Project SPARK, our smallest enthusiast-class PC to date. With its custom hardline liquid cooling system, SPARK can effortlessly deliver an unparalleled level of performance featuring NVIDIA GTX 1080 graphics and an Intel Core-i7 8700K processor.
Measuring 6 inches deep by 4 inches wide by 12 inches tall, it's the boutique PC builder's smallest desktop to date made for enthusiasts. Configurations are based on Intel's Z370 chipset with an Nvidia GTX 1080 GPU and an Intel Core-i7 8700K processor, all kept cool with a custom hardline liquid-cooling system.
The new Micro STX platform allows everything — processor, graphics, memory and storage — to be fully upgradable. Plus, there's room for expansion with three M.2 storage slots, a discrete MXM slot for graphics and an SATA 6Gbps port.
Digital Storm expects Project Spark will be available in the second quarter of 2018 with a starting price of $1,299 (which roughly converts to AU$1,650 or £960), fitted with an Nvidia GTX 1060 graphics card.
Asus ROG Strix GL12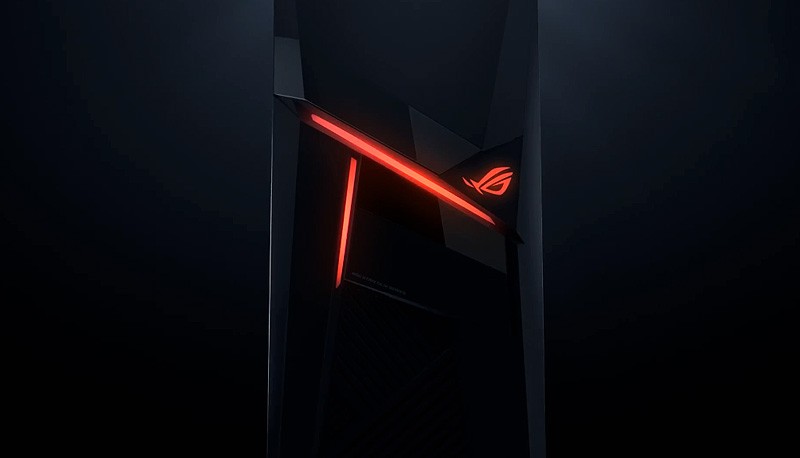 ROG STRIX GL12 is engineered to quench gamers' never-ending thirst for extreme gaming horsepower paired with striking, unconventional design. It is powered by up to a factory-overclockable 8th Gen Intel® Core™ i7-8700K processor (up to 4.8GHz Hexa-Core), with NVIDIA® GeForce® GTX 1080 graphics for boundless gaming experiences. System upgrades are effortless thanks to its expansion bay and an esports-ready easy-swap SSD tray.
A transparent side panel coupled with customizable Aura Sync technology light effects let you express your gaming persona, inside and out.
XRIG X1: A Compact & Stylish Game Changer
Zotac Magnus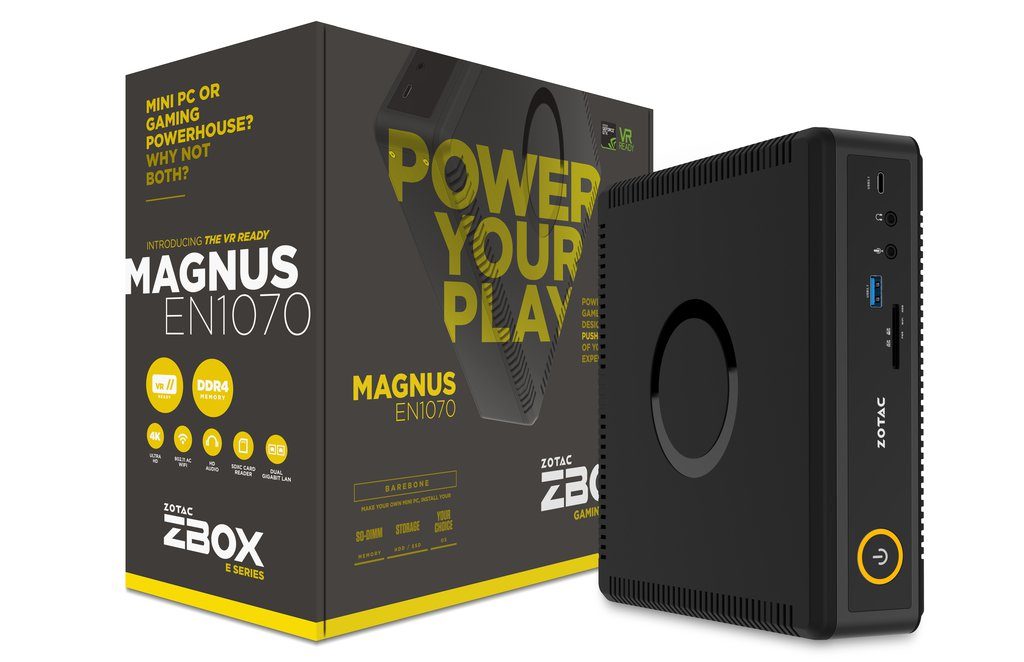 MAGNUS EN1070 transforms the entertainment experience with hardware that captures the essence of gaming. Designed to push the limit of your gaming experience and to strike the perfect balance between power and thermal for whisper quiet performance.
The power of Intel Skylake Core i5-6400T processor and graphical prowess of NVIDIA GeForce® GTX 1070 come together to create a superior VR and gaming performance, enabling native 4K display output and supporting up to 4 displays. MAGNUS EN1070 supports dual storage solutions to provide flexibility, and connects with 802.11ac Wi-Fi and dual gigabit LAN for high speed experience.
MSI Infinite-X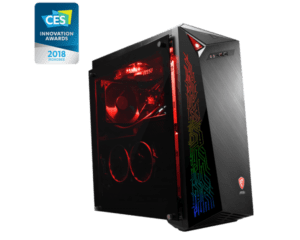 Windows 10 Home
8th Gen Intel® Core™ i7 -8700K processor with DDR4 memory
Up to MSI GeForce® GTX 1080 Ti 11GB GDDR5X graphics
Exclusive Silent Storm Cooling 3 PRO cooling system enhances system cooling and keeps it silent.
Mystic Light RGB LED design to customize your Gaming PC
Easy to upgrade – designed to upgrade your components with an ease.
Built-in carry handle – Take your Gaming Desktop everywhere with the easy to carry handle.
Vertical graphics optimal protection for your components during transport
Load your games in seconds with Super RAID 4
PCIe Steel Armor – Prevent the PCIe slot from breaking.
Nahimic 2.0+ Audio Enhancer
Audio Boost: Reward your ears with studio grade sound quality
High quality and durable components Military Class 5
Support Intel® Optane – speed up your storage device.
Exclusive MSI Command Center and MSI Dragon Eye apps
Super Charger 2: super power delivery, fast charge you mobile device
Super speed USB 3.1 Gen 1 Type C with reversible design