After Oppo's F5, Mi Has Brought Its Y1 & Y1 Lite For Its Selfie Lovers
After the unveiling of Oppo F5, Redmi has spared no time in launching their new "Selfie-Based" smartphone Y1. To counter Oppo and Vivo's Selfie focused phones, Mi has taken a major step to launch Y1 Series. Yesterday, the series has been officially been launched and will be available from November 8th only at Amazon. On the other hand, we see  Oppo's new F5 is a Flipkart exclusive. So the competition is huge in respect to the smartphone brands as well the e-commerce giants too. Read more about Oppo F5 here…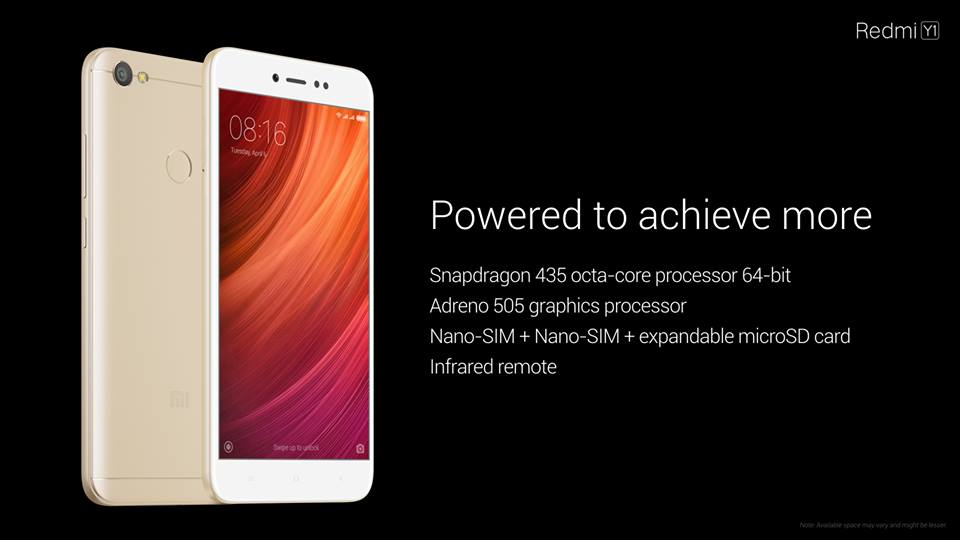 Well, to be honest, Mi has worked hard for this series and has also brought major changes in the series. Finally, Mi has included a dedicated slot for sd-card, which is a relief for its fans. Also, the 16MP front camera is a stellar for the selfie geeks. Also, the new MIUI 9 is a great advantage for the phone's optimization.
To counter Oppo and Vivo's "Moonlight Selfie" Phones the handset maker Xiaomi has included a Soft-toned Selfie-light. Like Oppo's has brought new celeb face, Siddharth Malhotra for its F5, Redmi has taken a huge leap. Yes, they branded its new selfie series with the gorgeous Katrina Kaif.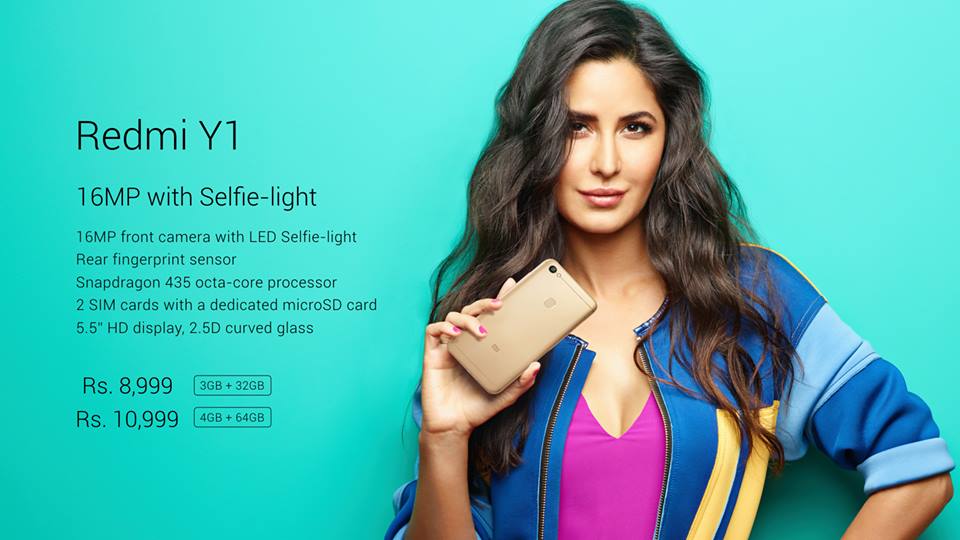 Redmi has priced the Y1(3GB+32GB) for 9k and the (4GB+64GB) for 11k, which is rather very cheap in comparison to the specs it has been offering. It is clear now, with such a huge brand face and with such a price range this phone will also be a great hit for the company.
Excited to know the specs? Well with no further delays here are the specs of the new Y1 & Y1 Lite:
Mi Y1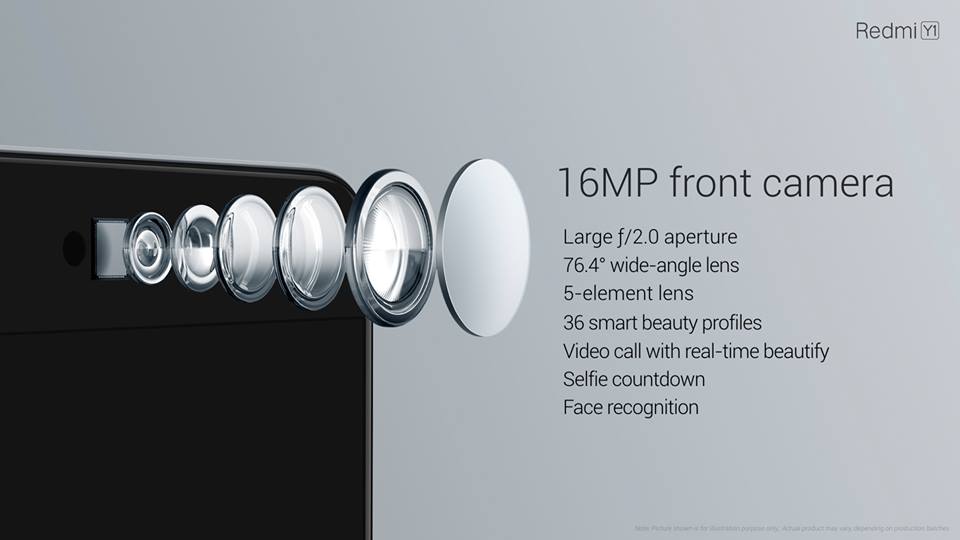 16MP front camera: Effortlessly gorgeous selfies
Up your selfie game with the 16MP front-facing selfie camera which lets you capture sharper and more vibrant self-portraits, and Beautify 3.0 enhances your natural beauty while preserving original facial details every time.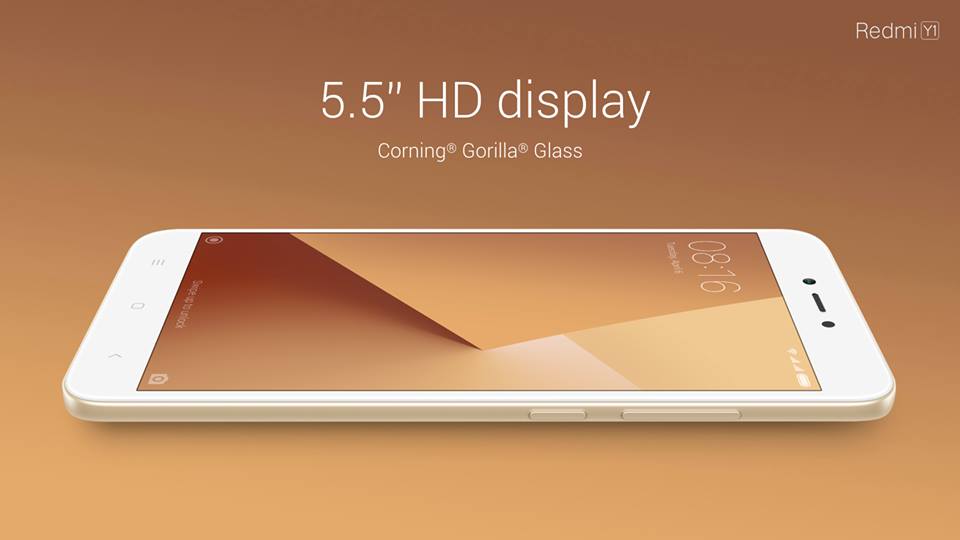 Large 13.9cm (5.5) HD display
Redmi Y1 lets you see more and do more, thanks to the large 13.9cm (5.5) HD display. It is the perfect media consumption device that sits comfortably in one hand.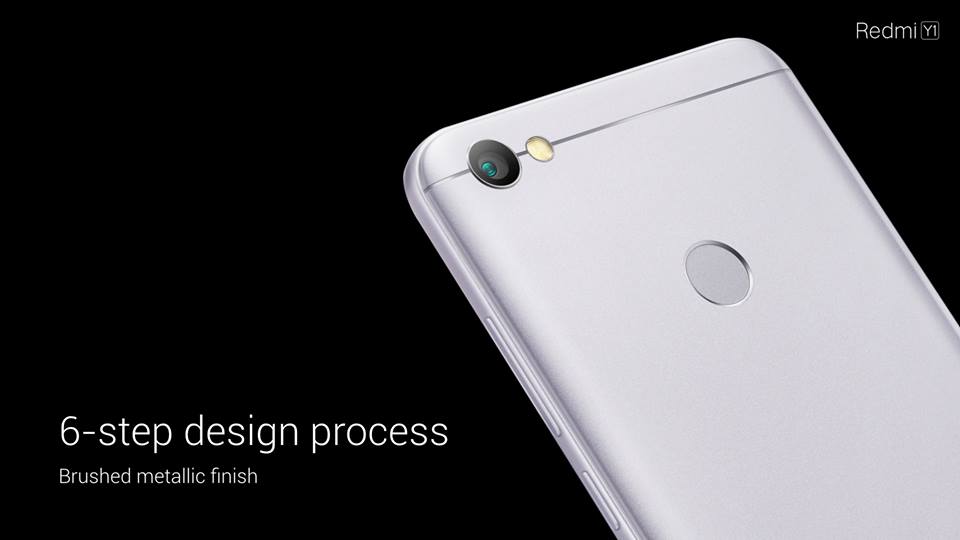 3080mAh long-life battery, Up to 10 days standby time
The Redmi Y1 is optimized for longer battery lifespan. It is powered by a large-capacity 3080mAh battery and coupled with system-level MIUI optimizations, it offers up to 10 hours of video playback, 12 hours of gaming,
and 21 hours of reading.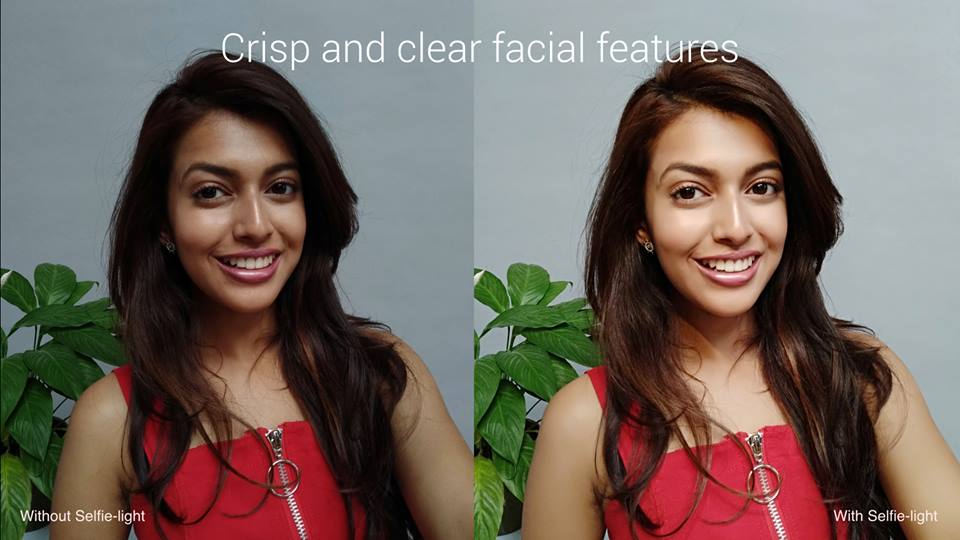 Soft-toned Selfie-light: Adjusts skin tone, highlights eyes
Take perfectly lit selfies, even under low light.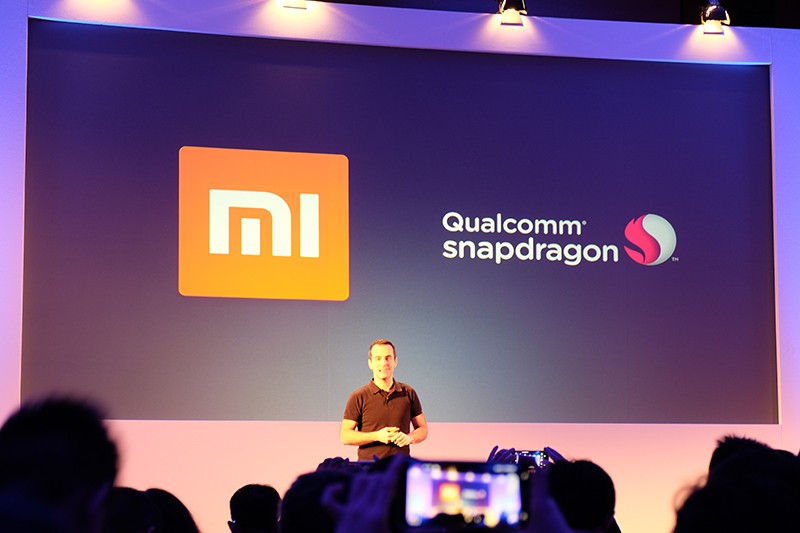 Snapdragon Octa-core processor: Smooth and seamless gaming experience
The Qualcomm Snapdragon 435 octa-core processor, ensures quick and smooth performance, even when you're playing visually-intensive games.

Thin, durable body
Redmi Y1 takes on a metallic and stylish appearance while remaining extremely lightweight at a mere 153g.
It is available in Gold and Dark grey colors.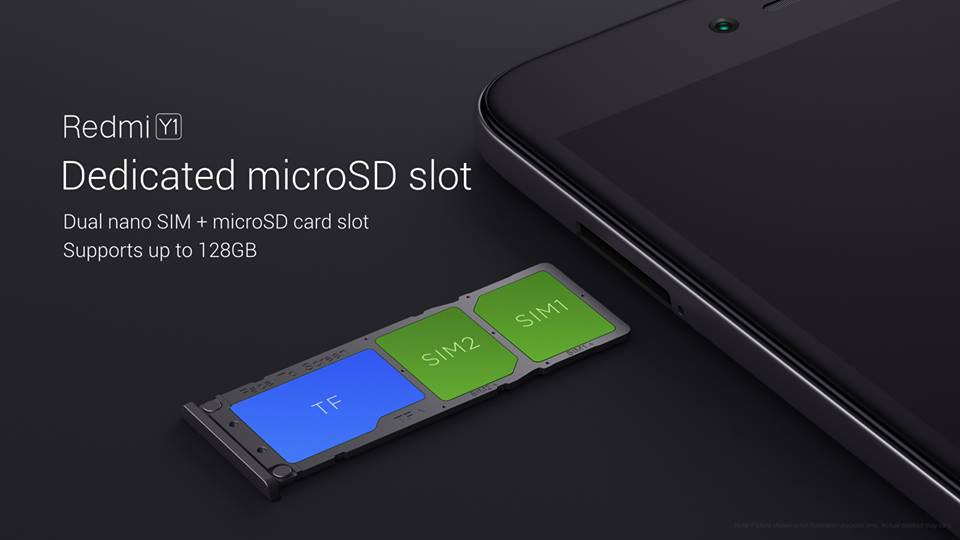 Dual SIM + microSD expansion: Up to 128GB
Supports simultaneous use of two SIM cards for data and phone calls and a microSD card for data storage.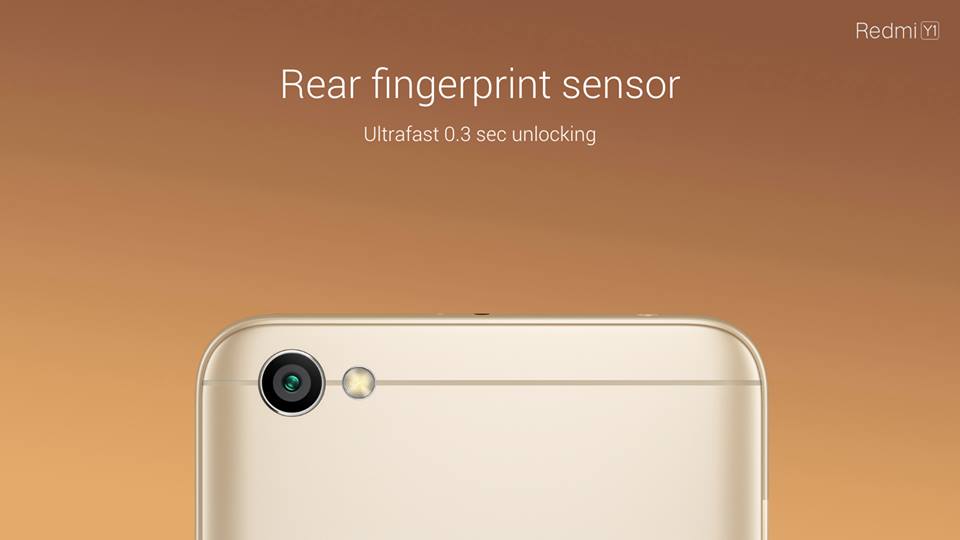 Fingerprint sensor enhances security
Securely lock your phone and sensitive files – and unlock them at the touch of your fingertips.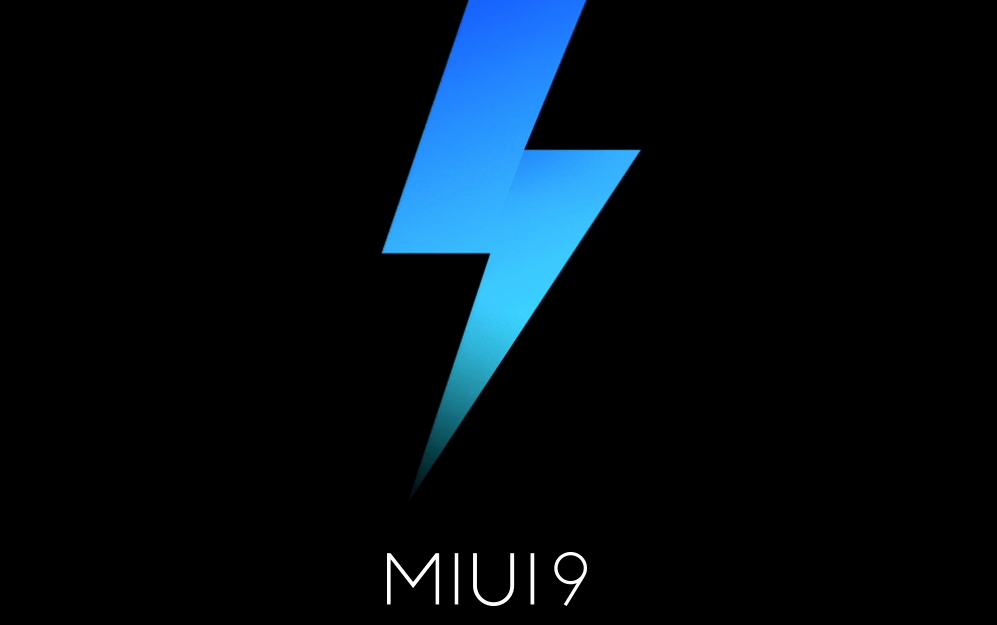 MIUI 9 Lightning fast
MIUI 9 is loaded with system-level customizations and optimizations for performance and battery life. Experience more, and experience it faster.
* MIUI 9 expected to be available on Redmi Y1
in November 2017
All Specs: here
Mi Y1 Lite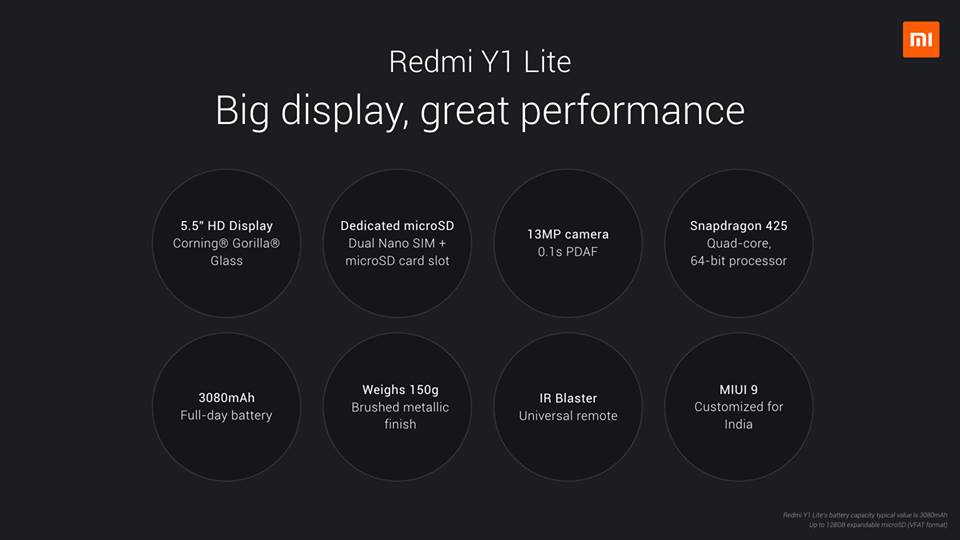 The basic difference is that this model has 5MP front camera rather than Y1. It has 2GB RAM + 16GB Storage. Also, the phone is powered by Snapdragon 425 quad-core with 1.4GHz max processor speed. Unlike the other, it has Adreno 308 500MHz GPU. Mostly the specs are quite same but the selfie camera is the main difference. Read the full specs here.
So we can conclude that this phone is going to be a huge success in the market especially for its selfie camera. Redmi has always brought innovation globally. With Note 4 the company has surpassed all records in Smartphone history. Mi has already broken many records in respect to its smartphone sales and also has captured the market. Well, there's no doubt that this one too will be a hit. Get ready selfie lovers… Buy here at Amazon.