Mi Along With HRX Has brought The Perfect Budget Smart Band
Mi recently brought the budget edition of the popular Mi Band 2, along with HRX. The Mi Band HRX Edition is only Rs 1.3k. Which is quiet cheap as compared to the specs that this band gives. HRX is a brand by Hrithik Roshan, which sells shoes, backpacks, t-shirts, sports vests and many good quality products. Mi has already become the 2nd smartphone maker in India. This has made people trust Mi. Now why you should buy it?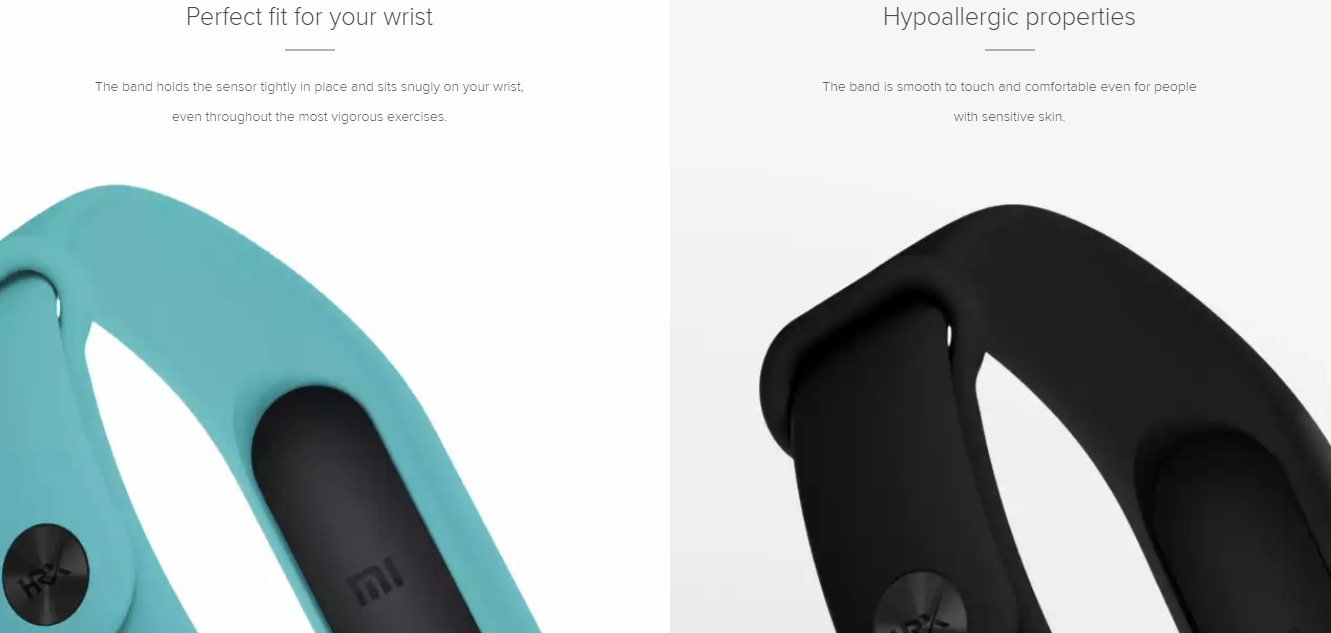 The Mi Band – HRX Edition is a watch and a fitness tracker built into one smart band. Whether you want to view time or check fitness stats – do all that and more by simply lifting your wrist and tapping the current time button. It's as easy as that.
The band provides you these features :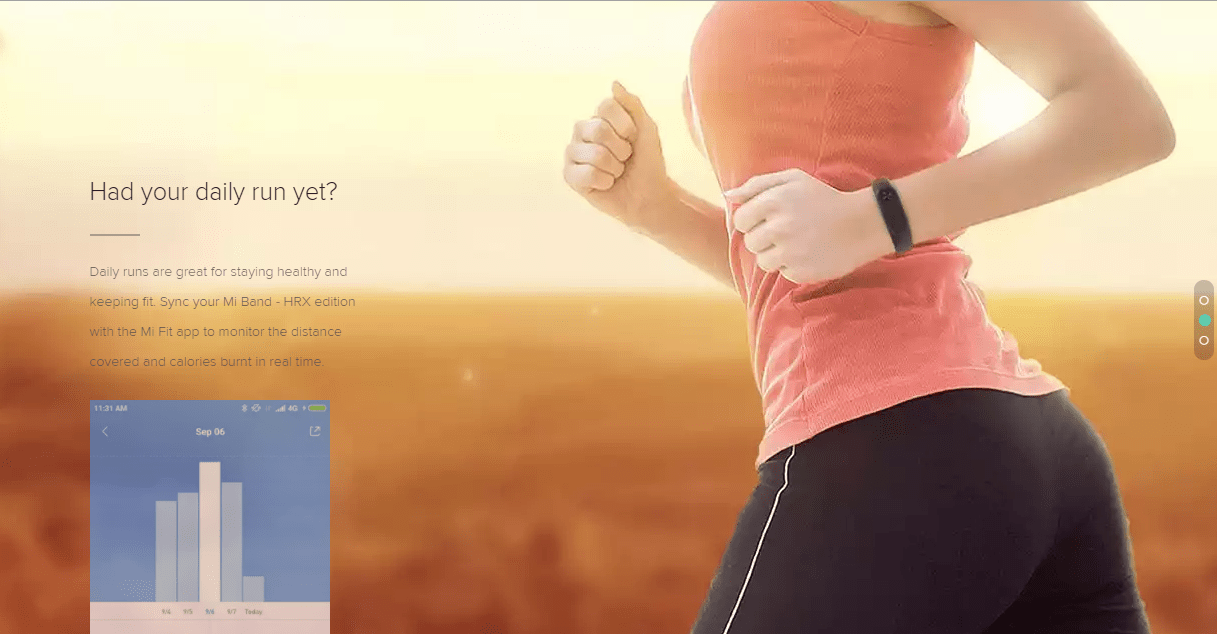 OLED Display
In addition to checking time, you can also check the number of steps you've taken, your sleep patterns and more on the OLED display.
Improved Tracking Algorithm
Receive almost exact information regarding your fitness stats, all thanks to the improved tracking algorithm. It filters out unnecessary movements and accurately measures every step taken by you.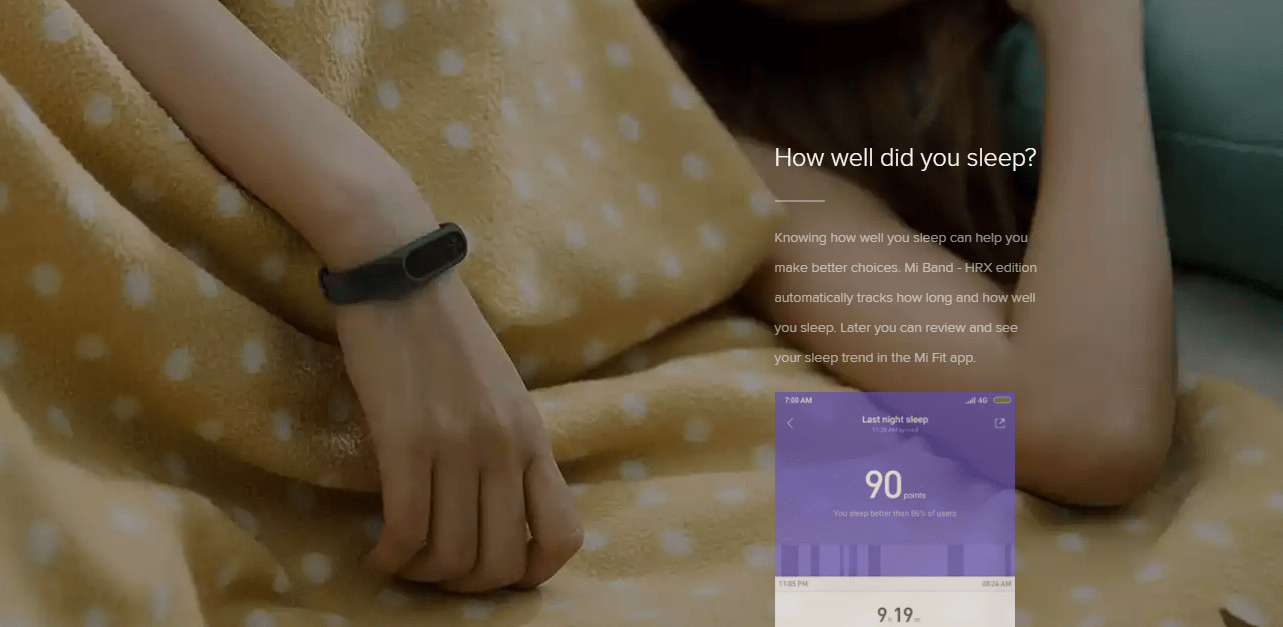 Idle Alerts
If you've been sitting for too long, the band vibrates during regular intervals to remind you that it's time for a short walk or water break. This will help improve your blood circulation.
Mi Fit App
When synced with the Mi Fit app on your phone, it helps you monitor the distance covered, calories burnt and your sleep patterns in real time.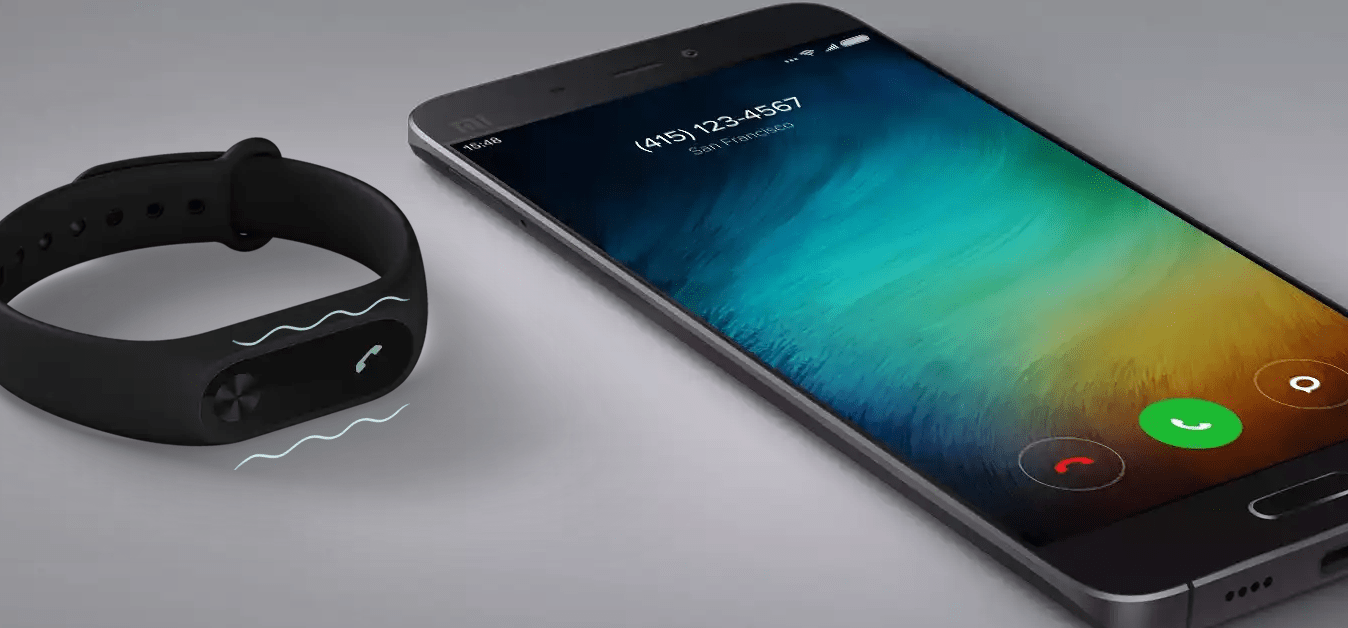 Easy to Unlock
Unlocking your phone has become easier and more secure as you don't need passwords or fingerprints. All you need to do is bring the smart band near your Android smartphone and it will unlock instantly.
Call and Notification Alerts
This band ensures that you don't miss calls, notifications and messages – especially when your phone isn't near you. Once you pair it with your smartphone, you can receive notification alerts right on your wrist.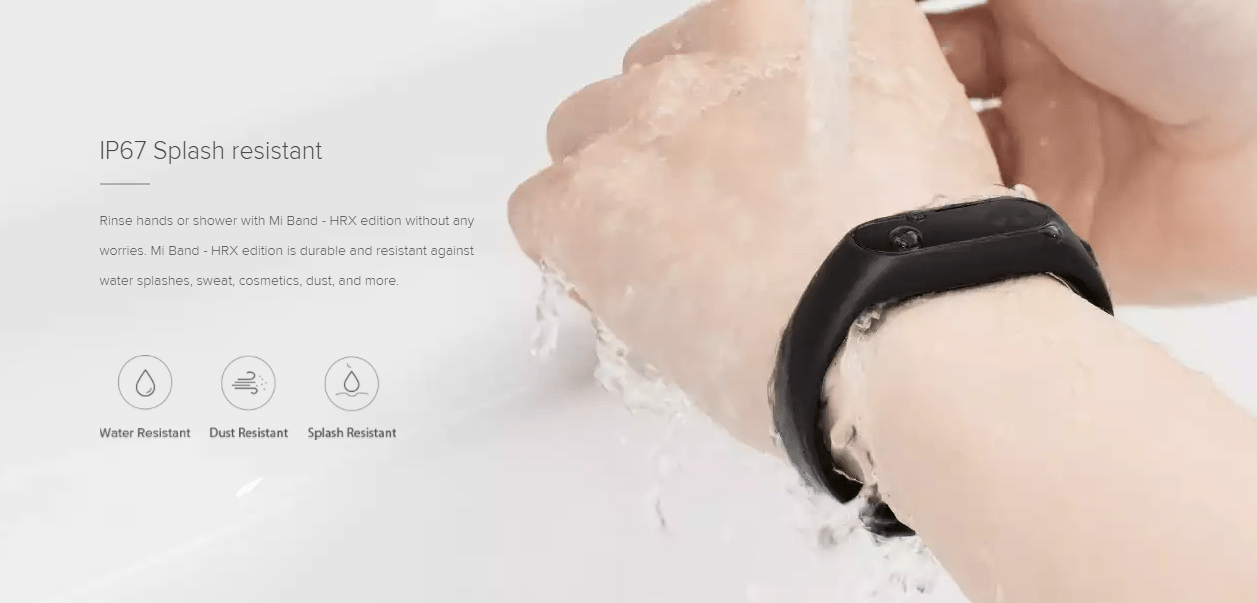 IP67 Certified
This fitness band is IP67 certified, making it resistant to sweat, cosmetics, dust, water splashes and corrosion.
Refined Inside and Out
The power-efficient OLED display is UV-treated and is resistant to scratches and fingerprints. The anodized button features 0.05 mm ripples etched across its surface for a better touch. You just need to tap on the button to conveniently check your latest stats. Within the sleek and stylish exterior lies a 2nd-generation, low-energy-consuming Bluetooth 4.0 chipset for fast connectivity and stable data transmissions. The lightweight, high-density lithium polymer battery can last for up to 23 days.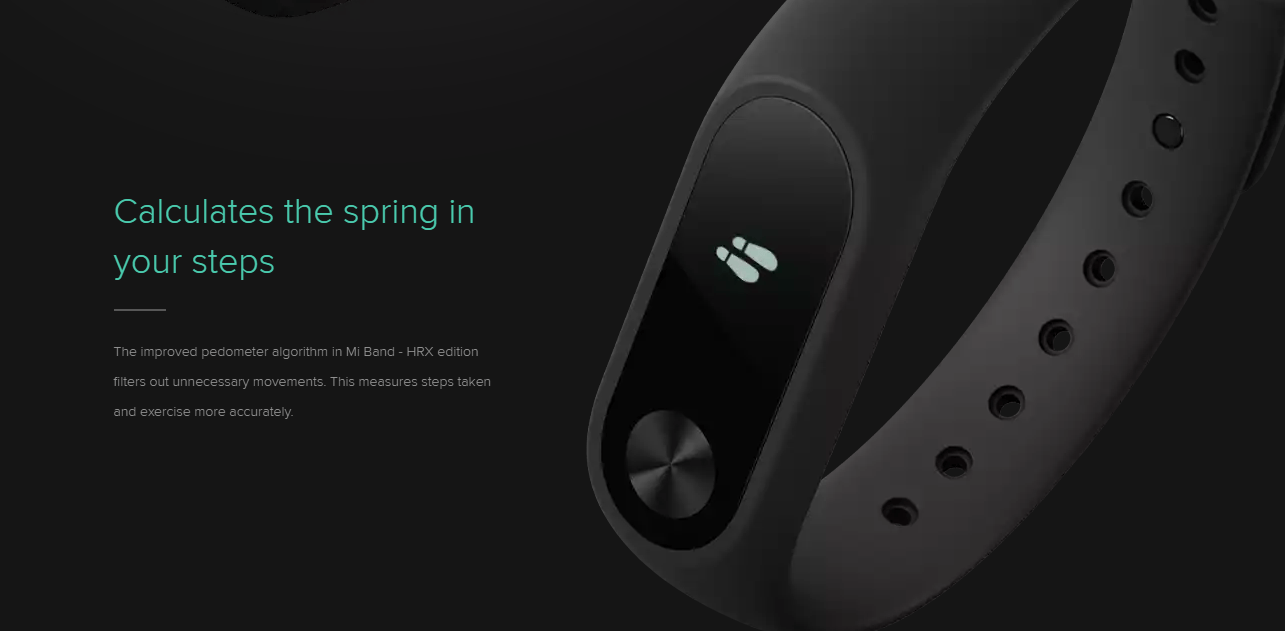 Fits Your Wrist Snugly
The snug and skin-friendly band holds the sensor tightly in place and prevents it from slipping, even during the most vigorous fitness sessions.
Tough and Durable
The smartband has been subjected to an environment that is as hot as 70°C and as cold as -20°C for 128 hours to test its endurance. It has also been drop tested 12 times from a height of 1.2 meters on a marble surface. Also, it has been corrosion tested by leaving it smeared with petroleum jelly for 24 hours.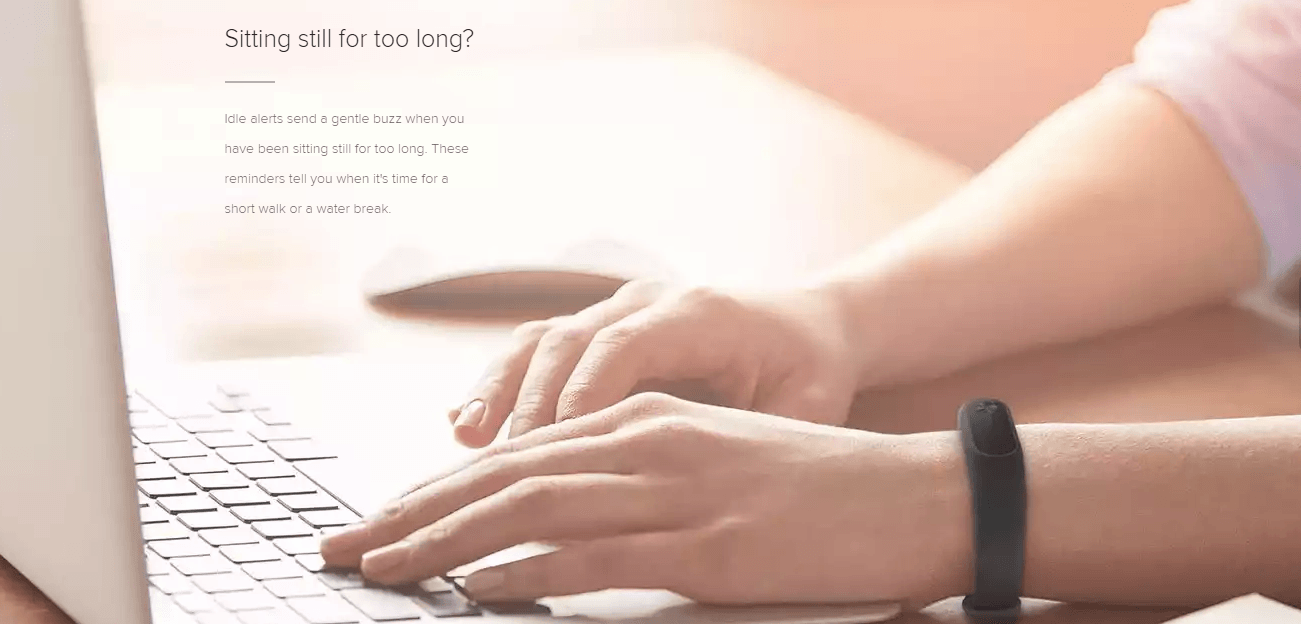 To provide such great specs and 6 months warranty at only Rs 1.3k is unbelievable. It faces fierce competition with Lenovo, Intex and Fastrack Smart Bands too. After using this band we can tell you its very good band with accurate information. Its battery is very long i.e it can last up to 20 days easily.
So what are the cons of the watch :
DISPLAY: display could have been little bigger than what it's having now. Like get in Lenovo or Honor band.
STRAP LOCK: Didn't feel it to be much safer one, it might open on its own, after sometime of usage.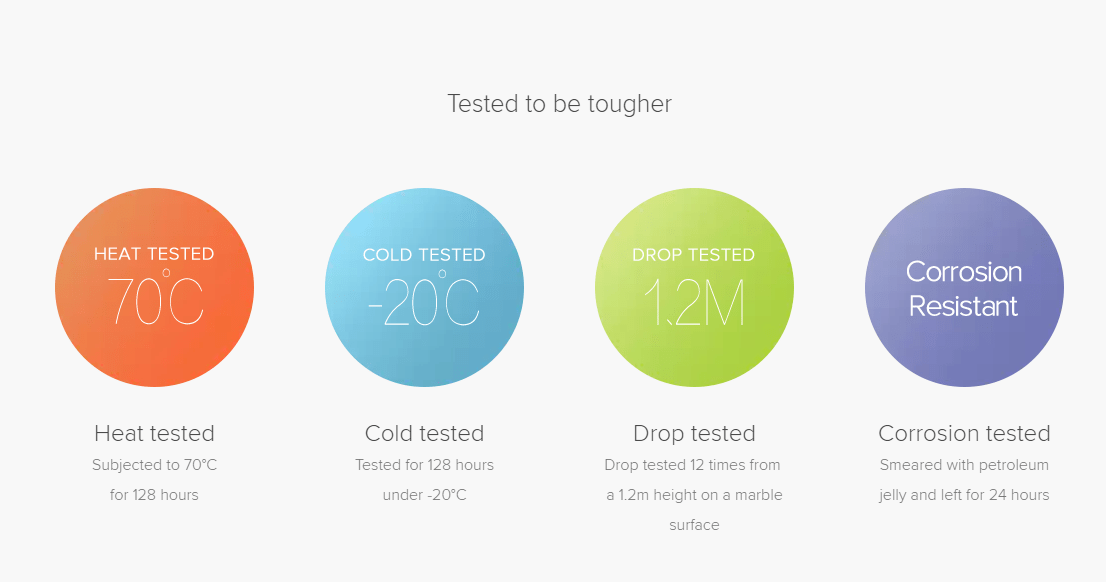 HEART RATE MONITOR MISSING: but fine for the price range and considering tag of Mi.
GYM WORKOUT: Not able to count calories during a gym workout, it's fine because I don't think in this range we'll get so much out of it. It does counts the steps walked and gives us the calories burnt for that.
Buy from Flipkart.